Peak Ballet offers Silver Swans classes in Mayfield, Belper and Matlock.
Silver Swans classes are currently bookable by term and have maximum class numbers.  Please contact Lara for more information. Classes via Zoom are also offered.
Silver Swans classes take on:
Mondays, at Mayfield Memorial Hall – 12-1pm and 1.15-2.15pm 
Wednesdays, at Vanessa's School of Dance, Belper – 12.20-1.20pm
Thursdays, at FlowMotion.Life, Matlock  (Unit 4, Olde English Road) – 11.30-12.30pm & 1-2pm 
(please check contact page for term dates).
Wear comfortable clothes, bring a drink and plenty of enthusiasm!
our lovely assistant leads these two clips!
The Royal Academy of Dance developed Silver Swans as a pilot project in response to a growing demand for ballet classes for older learners.  As Angela Rippon CBE, the  RAD's Silver Swans ambassador, scientifically proved in her BBC programme  'How to Stay Young', dance is the exercise which ticks all the boxes to give you the full mind and body workout. She said that the evidence "really convinced me that dance is a way to ensure a long and healthy life; it keeps you supple, it's an aerobic exercise, it gives you spatial awareness, it makes you use your brain, and it gives you some kind of social contact as well. I hope that men and women across the country will take up the Royal Academy of Dance's invitation to become a Silver Swan."
Lara is a licensed RAD Silver Swans teacher who has been trained to safely adapt ballet technique for older adults. Whilst Silver Swans classes are specially targeted at older learners, there is no upper or lower age limit!
One of Peak Ballet's Silver Swans, Penny Leake, talks to hermove.co.uk and explains what she has gained from becoming a Silver Swan in Matlock –
http://www.hermove.co.uk/blog/rad-penny-leake
and here Penny is again talking to the RAD with other Swans around the country –
http://www.royalacademyofdance.org/silverswans/swan-stories/
Here is Jenny, another of Matlock's Silver Swans talking to Prima magazine about her dancing journey.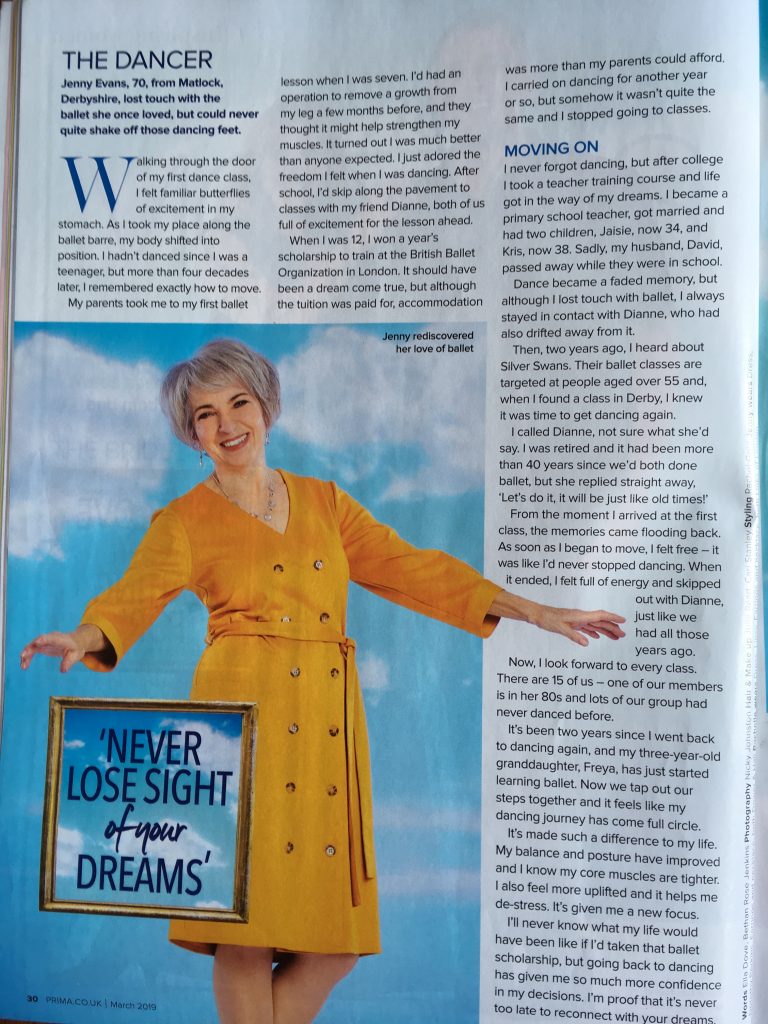 And here is a poem by Maggie from the Ashbourne class who has been inspired by Silver Swans and has in turn inspired us all.  Some time after Maggie wrote this poem she was taken seriously ill but has determinedly fought her way back to flying with the Swans of Ashbourne.
I am a ballerina, by Maggie, Ashbourne Silver Swan
I am a ballerina, an oldie Silver Swan
My bunions flipping kill me, with my ballet slippers on.
I dream of being famous, pirouettes on stage
The audience in awe of me, especially my age.
My hair like silk is silver, drawn tightly in a bun
Don't knock it till you've tried it, ballet can be fun.
My bingo wings prove useful, they take me to new heights
Outstretched and balanced awkwardly, I take off into flight.
Across the floor I drag myself, poised as best I can
A reflection in the mirror reminds me who I am.
Black tights that suck in every surplus roll of flesh,
Around my bum and hips the leotard, that takes my breath, will suck in all the rest.
My childhood dreams are now fulfilled, I dance with age and grace
Take to the stage, don't be afraid, when signet years take flight,
Your Silver Swan will carry you across each stage of life.