At Peak Ballet, adult beginners and improvers are welcomed to learn and put into practice the fundamentals of classical ballet technique.
Ballet promotes good posture and develops flexibility whilst strengthening, toning and firming your muscles. By focusing on the movements of your limbs whilst putting into practice core technique, you will develop your own form of artistic expression in a safe, supportive and friendly environment.
Ballet for Adults takes place on:
Wednesdays, 9.30-10.30am at Wirksworth Town Hall
Peak Ballet also offers a Royal Academy of Dance syllabus class for Adults at FlowMotion.Life in Matlock on Thursday afternoons. Currently spaces are limited to comply with Covid safety measures but please contact Lara to register your interest.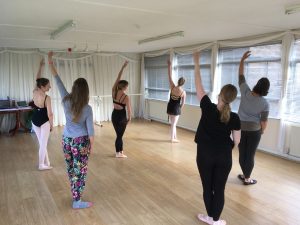 If your weekly schedule is busy, you can be assured that your class will offer value for time as well as money!  Please wear comfortable clothes, ballet shoes if you have them and bring a drink.